Mohali. A special drug-coated balloon is emerging as an alternative to the stents in opening narrowed or blocked blood heart vessels in several cases. It's an alternative new technique but further studies are required to observe a long-term follow-up period of at least three to four years.
Dr Bernardo Cortese director of cardiac cath lab and interventional cardiology at Clinical San Carlo, Milano Italy was addressing a press conference at Ivy Hospital, Mohali on Saturday where he conducted a workshop on drug-coated balloon technique for percutaneous coronary intervention.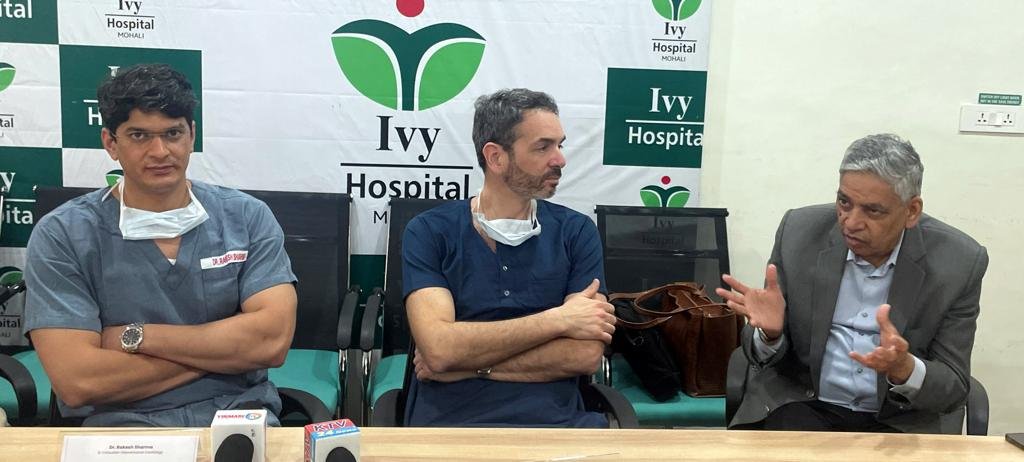 Dr Kanwaldeep, MD Ivy Group of Hospitals said that workshop by Dr Cortese through lights on a relatively new technique of drug coated balloon that could replace stent usage in up to 20-30 per cent of the angioplasty procedures.
"The technique especially becomes significant in light of younger individuals undergoing angioplasty," remarked Cortese.
He further said the drug and carrier complex is designed to reach the inner layers of the vessel walls and act as a reservoir for the long-term release of medicine that prevents re-narrowing of the coronary artery, he maintained.
Padma Bhushan Awardee and a former chairman of the Medical Council of India, Dr K K Talwar said," In this procedure, instead of releasing the stent at a specific spot, the drug is released through the mechanism which expands the arteries.
It reduces the side effects of stents."
Meanwhile Dr.Harinder Singh Bedi Director – Cardiovascular & Thoracic Surgery, Dr Rakesh Sharma senior interventional cardiologist and Dr.Sanjeev interventional cardiologist, Dr Vikram Arora consultant cardiac anaesthesia and Mr. Sandeep Dogra COO- Ivy Healthcare of the Group were also present during the occasion.